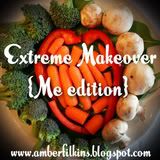 Amber
hosts this weekly encouragement session for those of us who want to make healthier choices for our lives. Go on over and check out her adorable blog!
Amber's question today is "What is your biggest obstacle right now?" That's easy - myself! I have spent much time and effort and prayer in changing old habits and creating new ones, and my heart is slowly changing. I needed a major heart change because I was in love with food. Every once in a while, that old romance resurfaces and I start to flirt with the chocolate again, but God has brought me a long way in helping me to let go of anything that gets in the way of my relationship with Him. How can food get in the way of my relationship with God, you may ask. When I've been tired, stressed, lonely, down, or bored, all of my life, I have turned to food for comfort and fulfillment, instead of turning to God, who alone has the ability to fill my heart. But the reason that I am my own biggest obstacle is that I always try to take on too much at once. My kids are at school, so I have a hundred projects in the wings:
I am trying to get the house clean and dust-free because of my allergies
I want to clean, sort, organize and purge junk from my house
In the midst of purging, I'm trying to find stuff to sell on eBay
I'm trying my hand at couponing so that I can help my hubby make ends meet
I picked apples last week and I want to make applesauce (I guess I shouldn't be in too much of a rush - my dear friend and neighbor told me that one year, she didn't get to canning her applesauce until February!!!)
Oh, and here's another good and worthwhile distraction: I am going to a Christian women's conference the weekend after next where I am giving a workshop entitled "Creating a Christ-Centered Approach to Weight Loss," so I'm spending a good amount of time preparing for that. The funny part is that I haven't lost any weight yet!!! But there are some ladies helping me out who are in various stages of their journey - I'll be the one who's still laying the foundation for lifelong weight management! Talk about humility training. . .
And the list goes on and on and on. So I end up sabotaging my efforts to eat healthy and get exercise in - I push these things to the back burner, even though I know I have to keep them on the front. I keep thinking, "after this one big project is done, then I'll have time to exercise." But NO, it has to be now. And I need someone to kick my butt to keep doing it. Anyone? Kick my butt and I'll be forever grateful.